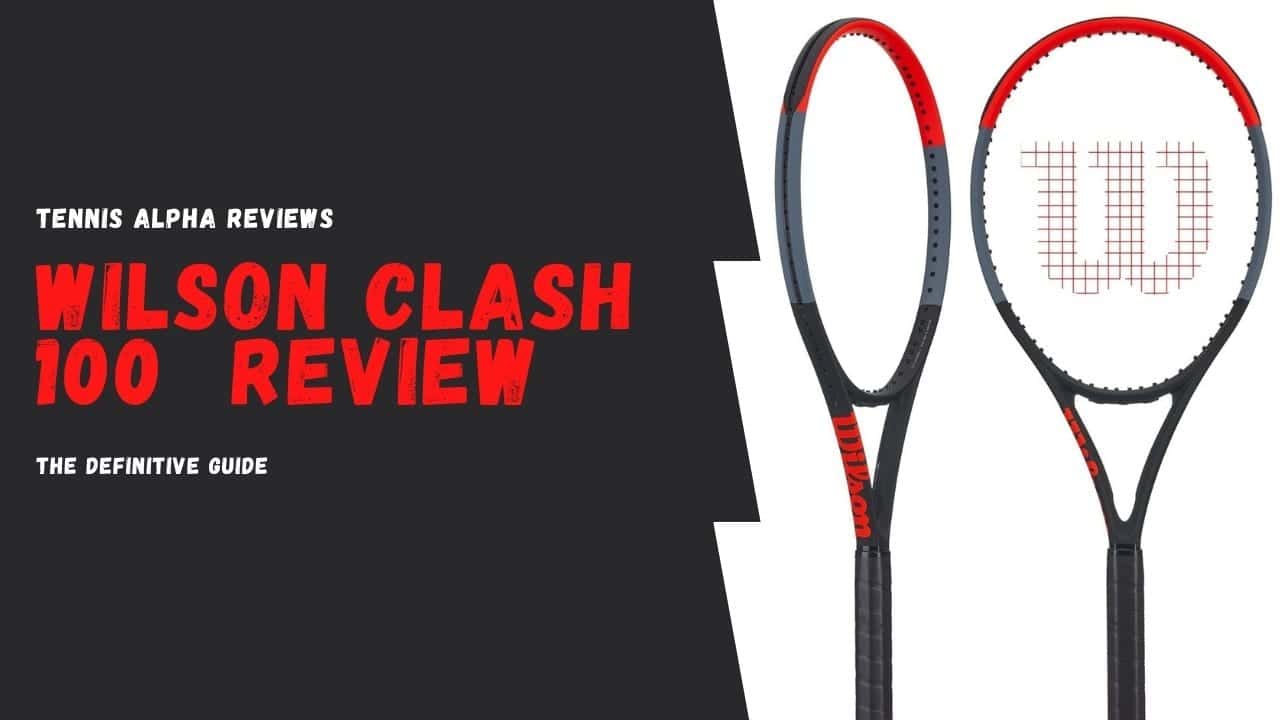 Wilson Clash 100 is one of the famous racquets in the market, today decided to review this amazing racquet also I will compare it to the Head Gravity tour .
After reading this review, you are going to discover the features of the latest version of the amazing racquet, we will discuss the pros and cons and give you an overview of the technology behind it.
Wilson clash 100 Quick Review
If you are in a hurry and you don't wanna read the full review, we made it easy for you, just read this quick review to check out the characteristics of this amazing racquet.
| | |
| --- | --- |
| Head Size | 100 in² / 645.16 cm² |
| Length | 27in / 68,58 cm |
| Strung Weight | 11 oz / 312g |
| Unstrung Weight | 305g/10,8oz |
| Balance | 7 Pts Head Light |
| Swingweight | 327 |
| String Pattern |  16 Mains / 19 Crosses |
| | |
| --- | --- |
| Power |  8.2 |
| Serves | 8.0 |
| Control | 8.7 |
| Groundstrockes | 8.6 |
| Maneuverability | 9.2 |
| Returns | 8.6 |
| Stability | 8.4 |
| Slice | 8.8 |
| Comfort | 9.0 |
| Topspin | 8.4 |
| Touch/Feel | 8.8 |
| Volleys | 8.5 |
| Forgiveness | 8.8 |
 

Pros

Cons

✅Great Mix Of Power And Comfort.

✅Great maneuverability.

✅Great Feel and Easy spin.

✅Good vibration dampening.

⛔ Nothing we could agree on.
Who is Wilson clash 100 tennis racquet for?
Wison Clash 100 is for tennis players who are looking for a maneuverable, versatile, and comfortable racquet.
I would recommend the Wilson Clash 100 for players of all levels who are looking for a racquet that provides control without limiting power delivery.
Wilson Clash 100 is an interesting option for tennis players with arm problems. In fact, it's one of the most flexible racquets on the market. With a stiffness of only 55 RA, it is the best choice for players who have suffered from arm injuries.
Wilson clash 100 SPECS
Looking at the specs of the Wilson Clash 100 , it has a 100 square inch head as we know it's 312 grams strung. It got a 12.59 in balance point a 55 RA. and the swing weight is at 325.
Wilson clash 100 Full Review
Description 
the Wilson clash was the most popular racquet in terms of aesthetic appearance. 
Everyone agreed that the Wilson clash was the aesthetically better-looking racquet.
Wilson introduces the Wilson Clash tennis racket as a revolutionary tennis racket.
With the Clash, Wilson's goal is to offer a racket that is both very flexible and at the same time powerful and stable, which doesn't seem to go together.
Wilson also presents the Clash as a racquet that can adapt to all styles of play, just like that!
To achieve this ambitious goal, Wilson has filed 5 patents.
The 2 core technologies of the Wilson Clash are: 
Stable Smart: an exclusive carbon mapping to provide excellent ball control for all types of play whether flat or lifted. 
FreeFlex: a frame geometry specific to the Clash, developed through computer simulation, to provide stability and power along with great flexibility.
Power
The power of the Wilson Clash 100 is intermediate, it's not weak and it's not an ultra-powerful racquet either. However, the Clash 100 is more powerful than the Wilson Blade and Wilson Pro Staff.
It's a little bit like the Wilson Ultra 100 or the Head Speed MP in terms of power, but the feel of the game is different.
I didn't get the feeling that the Wilson Clash adapts to the power of the player as I heard.
In any case, it's surprising to have a racquet with such low displayed stiffness that still manages to generate so much power.
With its mid-powered feel, I think the Wilson Clash will be a good fit for a wide range of players looking for versatility.
Groundstrokes
This racquet provides plenty of control and comfort on groundstrokes, the good balance between power and control makes it easy to penetrate the court with deep shots.
The large sweet-spot makes this racquet an excellent choice for players with arm problems such as tennis elbow, however, it takes a little bit of time to get used to the muted sound.
Stiffness
The stiffness of the Wilson Clash 100 is 55 Ra. this is the most flexible racquet on the market today!
If I hadn't heard this information, I wouldn't have thought the racquet had such flexibility when I tested it in the field.
With soft racquets, you can feel the frame bending when hitting and this was not the case for the Wilson Clash 100, except on a few really powerful hits.
it is interesting to have the comfort given by the flexibility of the frame, without reducing the power.
Feel and Comfort
Whether it's the flexibility of the frame or the technologies used in this racquet, in the end, the Wilson Clash 100 is very comfortable.
Control
The control wasn't there as much as a 98 square inch racquet where you can pick your spots really easily. But if you're comparing this to 100 square inch head size, I thought the control was pretty good. As I said, it's not quite as sharp as might be for 95 square inch head size, but no huge complaints about the control.
Maneuverability And Stability
With an unstrung balance of 31 cm, which is proper for a racquet of this weight, I expected to get a different feel.
In the end, I got sensations close to what I usually get with racquets balanced at 32 cm, like the Head Radical MP or the Tecnifibre TFight 295 XTC which is at 32.5 cm.
I had a very light feeling of weight in the head, which left very good maneuverability during the game.
It's preferable to have a very lightweight feel at the head with a slightly lighter racquet for stability and power.
As for the stability of the Clash 100 (295g), it's satisfactory for a racquet of this weight, even if it will be a bit low when hitting really hard or countering very powerful balls.
In this case, the Wilson Clash 100 Tour (310g) will be preferable.
String pattern
With its 645 cm² head size and 16×19 string pattern, the Wilson Clash 100 delivers a lot of spins.
It's not a topspin machine but I had no problem generating topspin on all types of balls.
Whether it's making short crossover lifts or high and long lifts, no matter how high the ball is, I felt comfortable doing it.
Wilson clash 100 vs HEAD GRAVITY TOUR
The Head Gravity tour gave me a lot of confidence as well. Just like the clash, it is different. However, it gave me a lot of confidence in the control of the ball placement of the ball, not so much with the power. 
I did find that I was hitting the ball a little bit shorter with the Head Gravity tour. I was still getting a great spin, but I really had to kind of focus on hitting the ball deep, whereas, with The Wilson Clash, it just came naturally with the power of the racquet.
Still, I do think that the Head Gravity tour has enough power with the small adjustments, you will be able to hit the ball where you want to without any problems.
with control, the Head Gravity tour gave me a ton of confidence to go for my shots and really place them. I found myself moving my opponent around the court a lot better, keeping them off balance. 
It was a little bit harder to hit those deep winners or penetrating shots with the placement and the confidence I had in placing the ball where I wanted to be able to build points a lot better with this racquet than I could with the Wilson clash.
Final thoughts
With control, the Head is better than the Wilson Clash 100, However, the clash offers more power and it's more comfortable to use. aesthetically,  the Wilson Clash 100 is my favorite racquet out of the two, I think this racquet looks really cool.
Alternative racquets to Wilson clash 100
PROKENNEX Black Ace 300 Tennis Racquet

This racquet is one of the best alternatives to the Wilson Clash 100 it's easy to control, with great comfort and stability.
This racquet is arm friendly, it's perfect for players who have elbow problems. The power of the shots is average, but the feeling is really good.
Pros

Cons

✅Very easy control.

✅superb comfort and stability.

✅Arm friendly

⛔ Mid-power racquet.
Babolat pure aero 
This racquet is for intermediate and advanced players who are looking for more power, it's great for aggressive players.
Read The Babolat Pure Aero 2019 Full Review
Pros

Cons

✅Super powerful shots.

✅Light and strong

✅Create more spin and power

⛔ Hard to control for beginners
Yonex Ezone 100

The Yonex Ezone 100 is a combination of power and control, easy depth, and great maneuverability. I recommend this racquet for intermediate to advanced players of all ages.
Pros

Cons

✅Powerful shots.

✅Great Feel

✅Create more spin

⛔ Nothing we could agree on
Wilson ultra tour 
This racquet offers a great level of comfort and stability, it's a perfect choice for players who want more control, It has a combination of the classic feel with the control-oriented performance with the speed needed for the modern game.
Pros

Cons

✅Great Feel

✅More control

✅Arm friendly

⛔ Underpowered
Summary
So guys Here is the complete Wilson Clash 100 review, which part of this article do you like most? Let me know in the comment section!
Now is your turn to pick one up and to take your game to the next level.
And don't forget "Talk with your racquet, play with your heart".