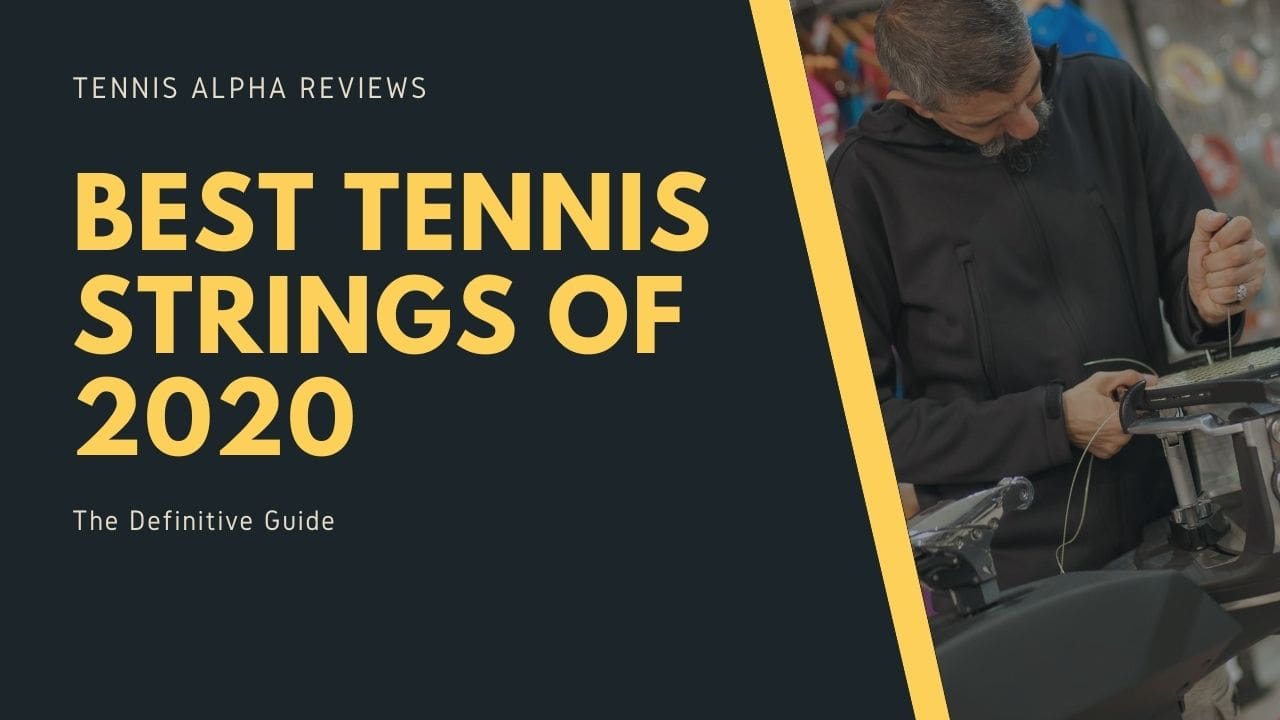 Choosing the best tennis strings for your game can be a little bit confusing but don't worry,  today we're going to go over some of the best tennis strings of 2020. some of our absolute favorite tennis strings launched years ago, but these are some of the newest releases that we are loving. 
Quick Comparison: Best Tennis Strings Reviews 2020 
If you don't have enough time to read the entire article? We make it easy for you just take a quick look at our Top 6 best tennis strings on the market today. 
why tennis strings matter? 
No matter what racquet you play with,  tennis strings have a significant impact on your game well, The tension, materials, and specifications of the strings make everything different, Bad string in your racquet can also make your game suffer. High-quality stringing brings you a lot of advantages.
How to choose the best tennis strings for you?
Tennis string material
Tennis strings are made of many different materials, and each material has its advantages and disadvantages. The following are the most popular types of materials that make up tennis racquet lines:
Natural Gut: 
for several years, natural gut strings have been the choice of tennis professionals payers all over the world. They are currently the least used tennis lines because they are by far the most expensive tennis lines, and animal activists often protest against their use.
They are still regarded by many as a high-performance tennis line. This type of string vibrates the least when hitting a tennis ball, it's a very good choice for players with tennis elbow, and it also gives the player a clean natural feeling when hitting a tennis ball.
Nylon (Synthetic Gut):
When tennis manufacturers find it expensive to get gut material, they turn to nylon to try to replicate the properties of the natural gut strings.
This is usually the choice for beginners and intermediate level tennis players. This type of t strings is known for the balance between comfort and strength.
Polyester (Poly)/Co-poly:
This tennis string is very popular among experienced and professional tennis players
The (Poly)/Co-poly string provides rare durability, power, and ball control for those who use it. It is especially suitable for those tennis players who use quick long shots when playing tennis.
Co-poly takes this ideal string technology to the next level. These types of racquet strings are polyester threads with other properties, such as new shapes and construction methods. They improve the comfort of hard hitters while allowing more topspin shots without having to make them appear so often.
Kevlar:
This is by far the strongest tennis string that you buy. It is the perfect string for novice and younger players because it will not break even with frequent mishits.
This is the best choice for younger beginner players because it will not break after frequent mishits.
However, this type of string is very stiff and therefore reduces flexibility. This is why you will never see a tennis racquet made of 100% Kevlar fiber stringed together. They are always mixed with nylon fiber to prevent the string of the tennis racquet from being too stiff.
What gauge of strings should I get?
Gauge is the thickness of the tennis string. The thinner the string, the better it will be to get more control because the string bites into the ball. although thin strings break more quickly. The best thing to do is to start with a 17-gauge string; if it breaks in less than 10 hours, go to a 16-gauge. otherwise, if it lasts for over 25 hours, consider switching to an 18-gauge.
Most strings on the market are between 15 gauge and 18 gauge. 
Strings Tension
 lower tension stringing offers you more shot power, less wear and tear on your arm, but less control over your racquet. The looser your strings, the farther you can hit the ball.
A high tension stringing gives you more control, so if you play an intense game or hit hard, this is your best choice. However, prolong playing with a tightly strung racquet may hurt your arm and get you a tennis elbow in the long run so you got to be careful.
Vibration dampening
More vibration equals more chance to get injured and it's also more uncomfortable to play with a racquet with high vibration level that's why a lot of players use tennis damperners and string their racquets with strings that are said to have vibration dampening characteristics. 
Stiffness
Players who like to hit with controlled shots usually like to make the strings slightly stiffer. Those tennis players who pay attention to skills also don't like their tennis line to be as hard. Remember, the stiffness of a tennis string is a mixture of how the string is made and the tension set on the racquet.
Best 7 tennis strings 2020 reviewed

 
Solinko Confidential

And we're gonna start off with Solinko Confidential. Now, we playtested this string at the beginning of the year and it's quickly become one of our favorites. This one is a shaped Co-Poly, very spin-friendly, very precise. it's definitely one of the best tennis strings on this list. 
Head LYNX TOUR

Next step from Head, one of my favorites as well. This year is the LYNX TOUR. It comes in this awesome champagne color. So it looks amazing on your on the court, in your racquet. And it was developed with the help of WTA and ATP players. So really high performing, six-sided Co-Poly String, impressive tension maintenance as well. Lots of spin and control if you haven't tried it. Definitely grab a set and get it in your racquet
Babolat RPM power

 then from Babolat. They've added another string to their RPM family and this is RPM. power. So if you like RPM blast, but maybe you want a little more comfort and a little more power. This is going to be that option. It is a Co-Poly monofilament and it is round.
So it's one of the best tennis strings for those big hitters looking for power and control. 
Luxilon ALU power
Then from Luxilon. These are not brand new strings. Obviously, these probably look familiar to you. However, the gauge is new, so we have ALU power and ALU power rough. Now in 130 gauge. So that is going to offer a little bit more control, a little more durability than the 105. This is gonna be a great option for those big hitters. This is one of the most iconic strings that you've seen on the ATP and WTA guys who are. So it's a great option. Definitely try it all in this new, more durable gauge. 
Wilson NXT Control

Now, we're going to talk about some softer strings and we're going to go into the multifilament world. And Wilson has updated one of the most popular multi filaments on the racquet, and they've created  NXT Control. So this is obviously just gonna be a softer option. It's going to be a little bit more powerful as well. Instant feel if anyone is dealing with some harsh feeling or vibration in their rocket. Try this string and it should be the fix.
Gamma TNT2 fat core XL

 Then from Gamma. We have TNT2 fat core XL. Now, you can't say the string name without a smile. So it's a really fun premium synthetic Gutt option. So great for a beginner or intermediate player that doesn't break strings. It's got added durability and control. And this is also gonna be an amazing hybrid option. 
Tecnifibre HDMX

Then from Tecnifibre, we do have HDMX. And this is going to be a special multifilament that kind of bridges the gaps between the multi and the poly world. So this one is comprised of nylon and polyester filaments and it's enclosed with a durable shell. 
So it's really designed to give comfort seekers. And multiplayer is even more comfort, durability, and spin. If you have been using Poly's and you just can't handle any more arm pain, this will be a good one to dry before you drop all the way into that multi-world. Or if you're multiplayer and you're interested in dipping your toe in the poly waters. Try this string first before you go to a full set of poly. 
Summary
So guys Here is the complete review of the best tennis strings of 2020, in this article I have shared with the top 8 tennis strings on the market today.
so if you're looking for a soft tennis string Wilson NXT Control is the best choice for you otherwise if you need more spin and more control you need to check the Head LYNX TOUR.
All the other choices on the list are also great. So which part of this article do you like most? Let me know in the comment section!
Talk with your racket, play with your heart.