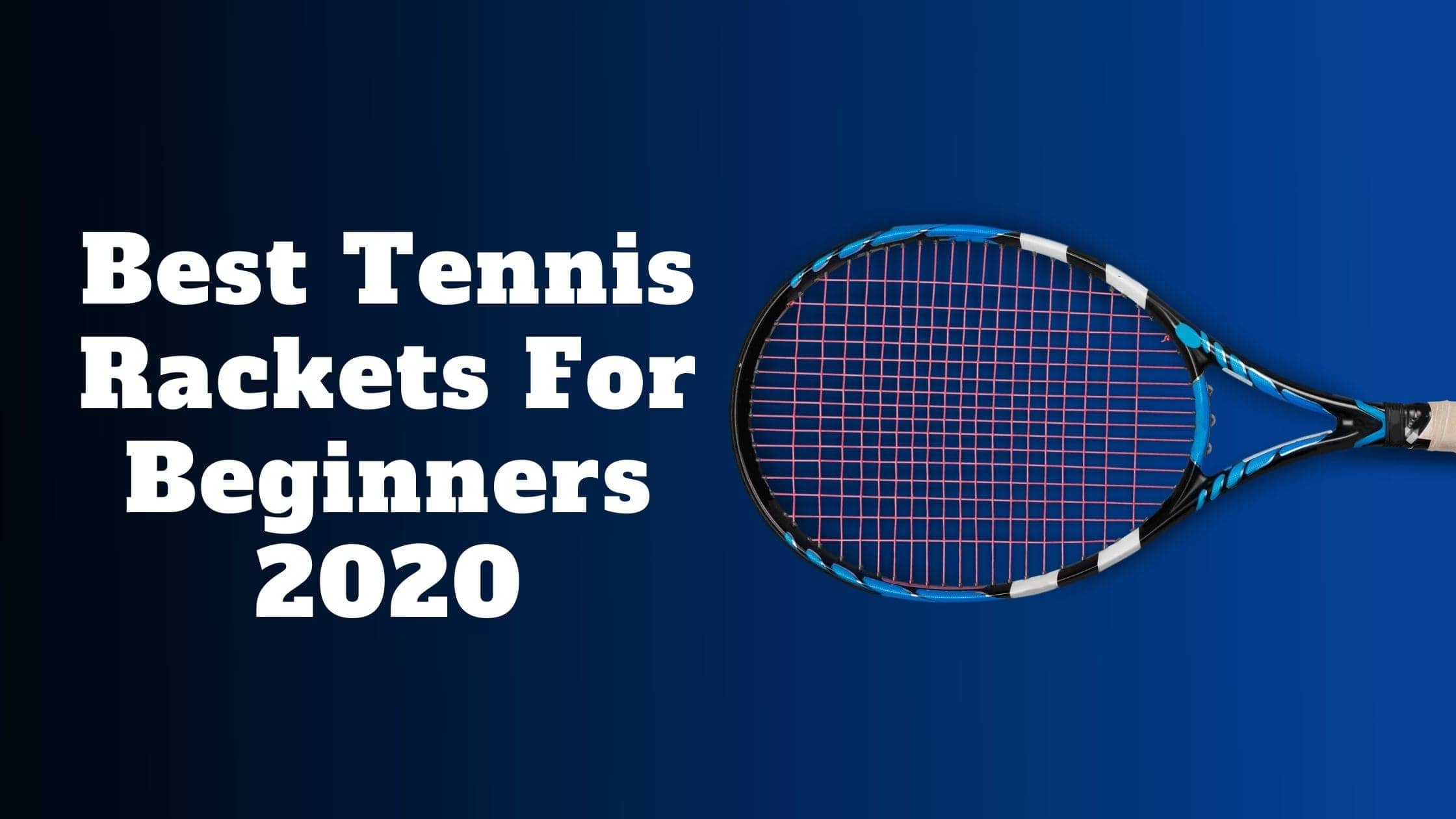 If you are in a hurry and just want to find out what the best tennis rackets for beginners I'd recommend the Head TI S6 as the best one.
As a  beginner probably the first thing you think of when you decide to start playing tennis is to buy a new racket. 
Let me stop you right there, in fact, picking the right racket for you can be a little bit intimidating especially for beginners, but don't even worry I'm here to help you pick the right one of this best tennis rackets for beginners to start playing this wonderful sport. 
Quick Comparison: Best Tennis rackets for Beginners Reviews 2020 
If you don't have enough time to read the entire article? We make it easy for you just take a quick look at best tennis rackets for beginners on the market today. 
Wilson Hyper Hammer 5.3 (oversized)
Why your tennis racket matters
It is very important to pick the right racket when you start playing tennis.
You must use a beginner's racket to be able to enjoy playing easily and learn the right techniques.
Beginners rackets can help you generate more hit power to be able to get more balls over the net, their large head size makes you have more control over the coming balls if you don't hit right in the exact middle of the string bed, the larger sweet spot means you're still going to get a pretty good shot. 
With the right racket, you will enjoy playing tennis and improving your skills as quickly as possible.
How to Select a Tennis racket for Adult beginners
There are three main categories of tennis rackets (power rackets, control rackets, tweener rackets) 
As a beginner, it's smarter to choose a racket form the power rackets category.
The main characteristics to choose the right racket :
head size: a larger head size provides more power than smaller head size. All other things being equal. With a bigger head size, you have a large sweet spot, so if you don't hit right in the exact middle of the string bed, you're still going to get a pretty good shot anyway. 
You should look for something that's at least one hundred and five.
the length of the racket: the legal size for tennis rackets is twenty-seven to twenty-nine inches and I think twenty-seven point five is pretty much the standard. 
As a beginner, you should look for a standard racket because more length means more racket to get under control and probably more weight too. 
the weight and the balance: A balanced racket is where the weight is distributed along with the entire frame of the racket, it's balanced throughout, where a head heavy racket has the weight more concentrated in the head and the string area of the racket.
As a beginner, or as someone who's kind of small and doesn't have a lot of power or technique, you should definitely look for a lighter racket. 
frame stiffness: you need to choose a flexible racket to prevent injuries like tennis elbow, it also helps to add more power which is good for you as a beginner, and it is more comfortable to play with.
the string pattern: you should look for a dense string pattern to provide more power to your shots because of the increase of this potential for a trampoline effect. 
Common string bed pattern is 16 by 19, I think 16 by 18, although I think I just read somebody had four this year, had a string bed pattern where it was like 18 by 14 or something like that, really wide open. 
How to select the Best Tennis Rackets for beginner kids? 
It is hard to even imagine a child today of 5 or 6 years old being forced to maneuver such outdated equipment. Yet as a tennis instructor, I have seen more than my fair share of adult-sized rackets passed on to kids for use in my program. 
Fortunately, I keep spare kid-sized rackets with me for just those times one of the problems that parents deal with is a lack of tennis knowledge or guidance to help them in making a proper purchase. 
What is the correct racket to buy? These days you will find a section of rackets labeled junior rackets. The supporting packaging might even suggest an age range for the pink-purple yellow or blue collared frames screaming to be taken home in order to find its way onto the court. 
These rackets are usually very reasonably priced and the selection might go from two or three to almost a dozen touting pictures and names of today's current popular top players.
Most rackets are made of aluminum providing lightweight stability and an inexpensive price tag but Junior rackets come in various lengths and grip sizes as well.
To pick the right racket for beginner kids you should take two factors in consideration  racket length and racket's grip size
Racket length 
Length is determined by the height of the child and there is a general rule that is very easy to use as your child stands up straight the racket next to their leg racket head down and let them reach toward the grip their fingers should touch the end of the racket handle called the butt if their hand reaches down further onto the grip itself then the racket is too long junior rackets range from twenty-five inches to 17 inches in length and they should be clearly marked grip size is another issue but you will probably find that this sized racket has limited grip selections somewhere in the three to the four-inch range. 
grip size
Usually, there is only one grip size per racket length. This contrasts with adult rackets which have a variety of sizes ranging from about four and eighth inches to four and three-quarter inches.
 The correct size for adults can be determined by a rule of thumb here, actually the rule of the ring finger with your handheld flat palm up and fingers alongside one another measure with a ruler beginning at the lowest crease in your palm.
Stretch the ruler towards your ring finger with all of your fingers alongside one another. The measurement you see at the tip of your ring finger will be somewhere in the range that I have already mentioned of course. 
How feels in your hand is the most important factor but when my parents let me pick out my first racket as a child neither they nor I knew what the grip should feel like.
The good news is that provided you choose a grip that is undersized you can always grow it bigger by purchasing an inexpensive grip wrap which will add about another one-eighth inch to the diameter.
If the grip ends up being too large There is less opportunity for adjustment. 
Suffice to say that once you are on the side of undersized and not oversize we know that kids will always get bigger as they age and they will quickly grow out of a racket as they do their sneakers. So keep this in mind when you make a purchase. 
One racket will not last them their entire childhood any more than their clothing will whereas pants that are too short may be embarrassing. 
The use of an improperly sized racket could at best limit a child's ability or at worst help promote injury. 
top 5 tennis rackets for beginners review
Head TI S6
Description
Very suitable for those who have a medium swing posture, they want to increase strength, Ti. S6 is an excellent tennis racket for adult beginners to intermediate level.
Its oversized head is ideal for beginner players who seek clear shots from the start.
The extremely high value and greater versatility provide the perfect combination for the ultimate casual racket.
 The excessive diameter of the racket head will produce a larger sweet spot.
The head size of the racket is 115 square inches and is 1″ head heavy

The beam of the racket is 28.5mm

The string pattern of the racket is 16×19

The racket is extra long in length at 27 3/4″ and weighs 8 oz
 
Pros
Cons

+much light and powerful.

+combination of titanium and graphite. 

+Great power from the baseline

+The titanium creates a lightweight racket

+Relatively inexpensive

+great feel and durability.

+the head size is bigger than most rackets in the same price range or higher

-The default strings that come with the racket have bad quality. It often vibrates and may hurt your elbow. 

-If you have an extra budget consider restring it after a few matches.

 
Babolat Pure Drive 110
Description
One of the best choices for beginners and intermediate players. 
The Babolat Pure Drive 110 is great at the net and has excellent spin potential. A very big sweet spot also.
I highly recommend this racket for those who want a comfortable and excellent performing all-around racket
Head Size:110 sq. in. / 709.68 sq. cm. 

Length:27.5in / 69.85cm 

Strung Weight:9.7oz / 274.99g 

Balance:34/3HL

Swingweight:305

Stiffness:69 

Beam Width:24mm / 26.5mm / 23.5mm / 

Composition:Graphite 

Power Level:High 

Stroke Style:Compact-Medium Swing

 Speed:Slow-Moderate 

racket Colors: Blue 

Grip Type: Syntec Lite
 
Pros
Cons

+Great power for groundstrokes.

+Big sweet spot 

+Excellent spin potential

+Great value for money 

+Low vibration

+More control

-Little bit expensive

-Not good for professional players 

 
Head Microgel Radical
Description
This racket has a revolutionary silicone-based material, with the lowest density of any solid known.
This racket has a little weight in the head that gives me much more power than the pro staff and lessens some vibration (and the wider dampener helps too).
Great balance, or middle ground, in the way this racket performs it gives you great control. It also generates quite some power. 
On ball impact, Head MicroGel uniformly distributes the impact load around the frame to provide a rock-solid feel and unique touch

The head size of the racket is 98 square inches

The beam of the racket is 21mm

The string pattern of the racket is 18×20

The racket weighs 10.4 oz and is standard in length at 27″
 
Pros
Cons

+Great control 

+Much power 

+Great feel

+Solid racket 

+Low vibration 

+Good mobility for doubles

-A little heavy for small players

 
Wilson Hyper Hammer 5.3 (oversized)

Description
This is a great racket for the price, very lightweight, good power with the oversized top-heavy. Control doesn't suffer too much as a result this racket is an excellent choice for beginners through intermediate looking for the balance between power and control.
Head Size 110 sq in 

String Pattern 16×20 

Unstrung Balance 11 Pts HH 

Strung Weight 254 oz 

Length

69.9 cm
Pros
Cons

+More powerful

+More stable and helps maintain control

+Solid racket 

+Low vibration 

+Good price for the value 

-Strings tension is not good enough for intermediate or advanced players

 
HEAD Geo Speed Pre-Strung
Description
The HEAD Geo Speed ​​tennis racket is one of the best tennis rackets for beginner players of all ages. The 105-inch oversized head can create a larger optimal hitting point, which is ideal for players who still need to master their skills.
The large size head on this racket is great for beginners, and actually has a high quality, expensive feel. 
This racket has a head light balance which reduces vibration and aids in stability when hitting the ball.
This racket is a great choice for beginner players that can not afford an expensive racket.  
WEIGHT (UNSTRUNG): 295 g / 10.4 oz 

STRING PATTERN: 16/19 

HEAD SIZE: 680 cm² / 105 in² 

GRIP SIZE: 2-4 BALANCE: 330 mm / 0.7 in HL

 LENGTH: 698 mm / 27.5 in

 BEAM: 23 mm
Pros
Cons

+Lightweight

+Great control 

+Much power 

+Great feel

+Solid racket 

+Low vibration 

+Good mobility for doubles

+Very good price for the value

-A little heavy for small players 

 
Our Final Choice for The Best Racket for Beginners
There are a lot of options on the market. Since most beginner tennis players swing shorter and more compact swings when they first start learning tennis, you need a racket that provides strength. We suggest  HEAD Geo Speed Pre-Strung because it's of an affordable price compared to all the futures that it provides. 
As the game progresses, your batting moves will become more consistent, but a larger sweet spot and a more forgiving racket will make the game more interesting, Head TI S6 is the perfect balance of control and power, feeling and rotation, beginners need to learn tennis.
All the other choices on the list are also great for beginner players. 
Summary
So guys Here is the complete guide of the best tennis rackets for beginners 2020, which part of this article do you like most? Let me know in the comment section! 
Now it's your turn to pick a racket and to take your game to the next level.
Talk with your racket, play with your heart.