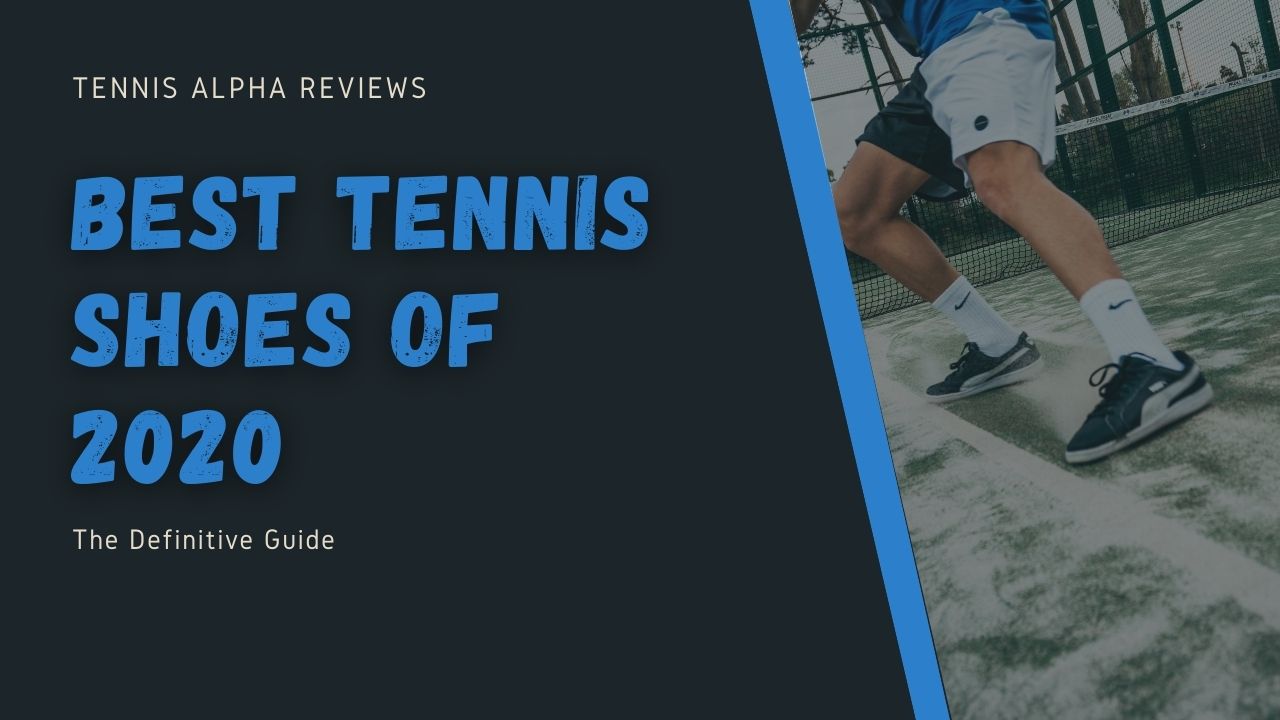 If you are in a hurry and just want to find out what are the best tennis shoes on the market today I'd recommend NIKE Men's Court Lite as the best ones.
Whatever your tennis level is, grabbing any old pair of sneakers for a blast on the tennis court simply just won't do it. Picking up the right tennis shoes for your game can be a little bit tricky but don't worry today we will review the best tennis shoes on the market, after reading this article you will be able to easily pick up the best tennis shoes for your tennis game.
Different Parts of  Tennis Shoes
let's get started by understanding the different parts of a tennis shoe.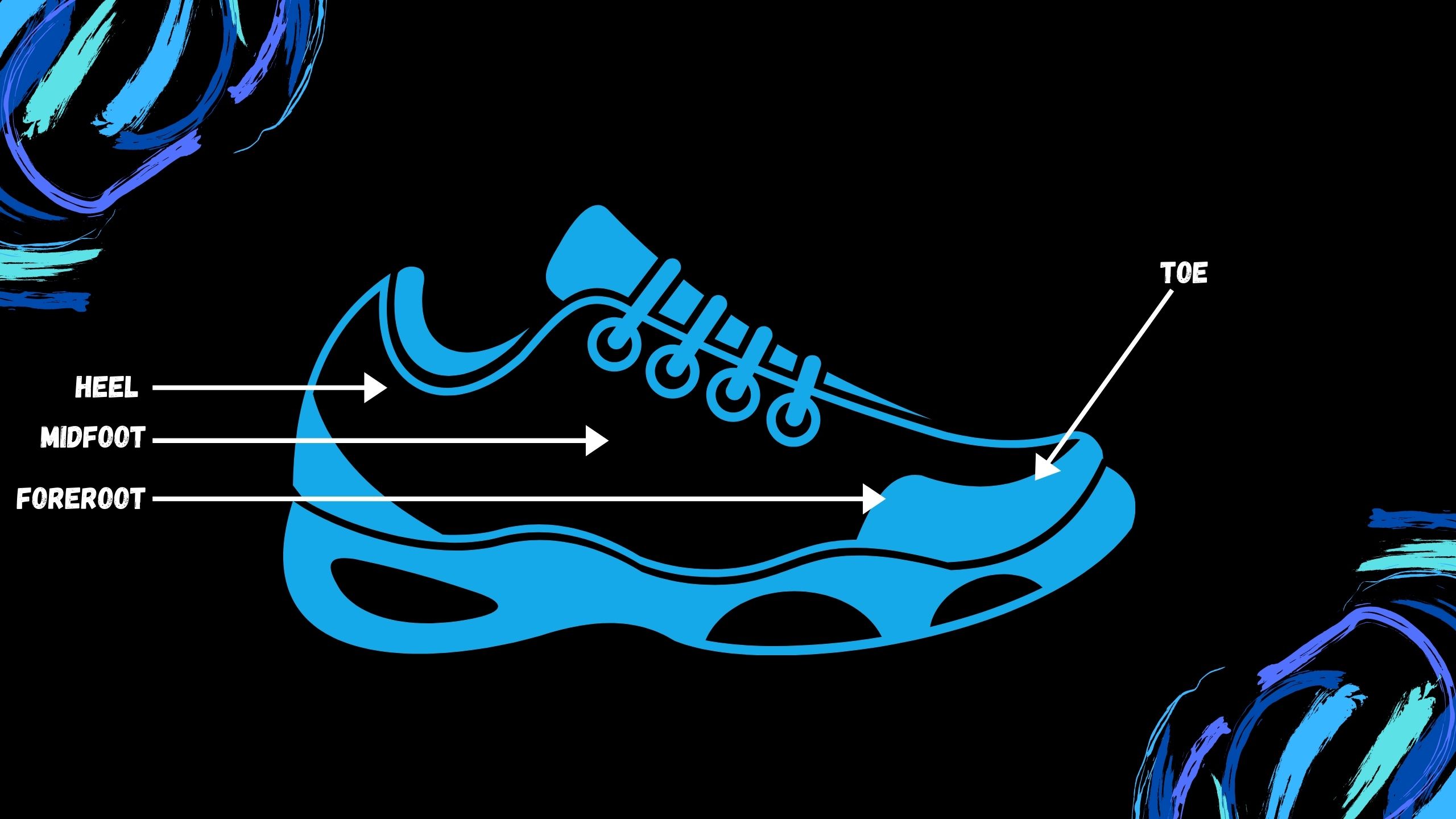 When we're talking about a shoe we usually have for different parts which refer to the heel, the midfoot, the four foot, and the toe.
Then there are two sides to every shoe, the lateral side and then the medial side. Now let's take a look at the laces.
Laces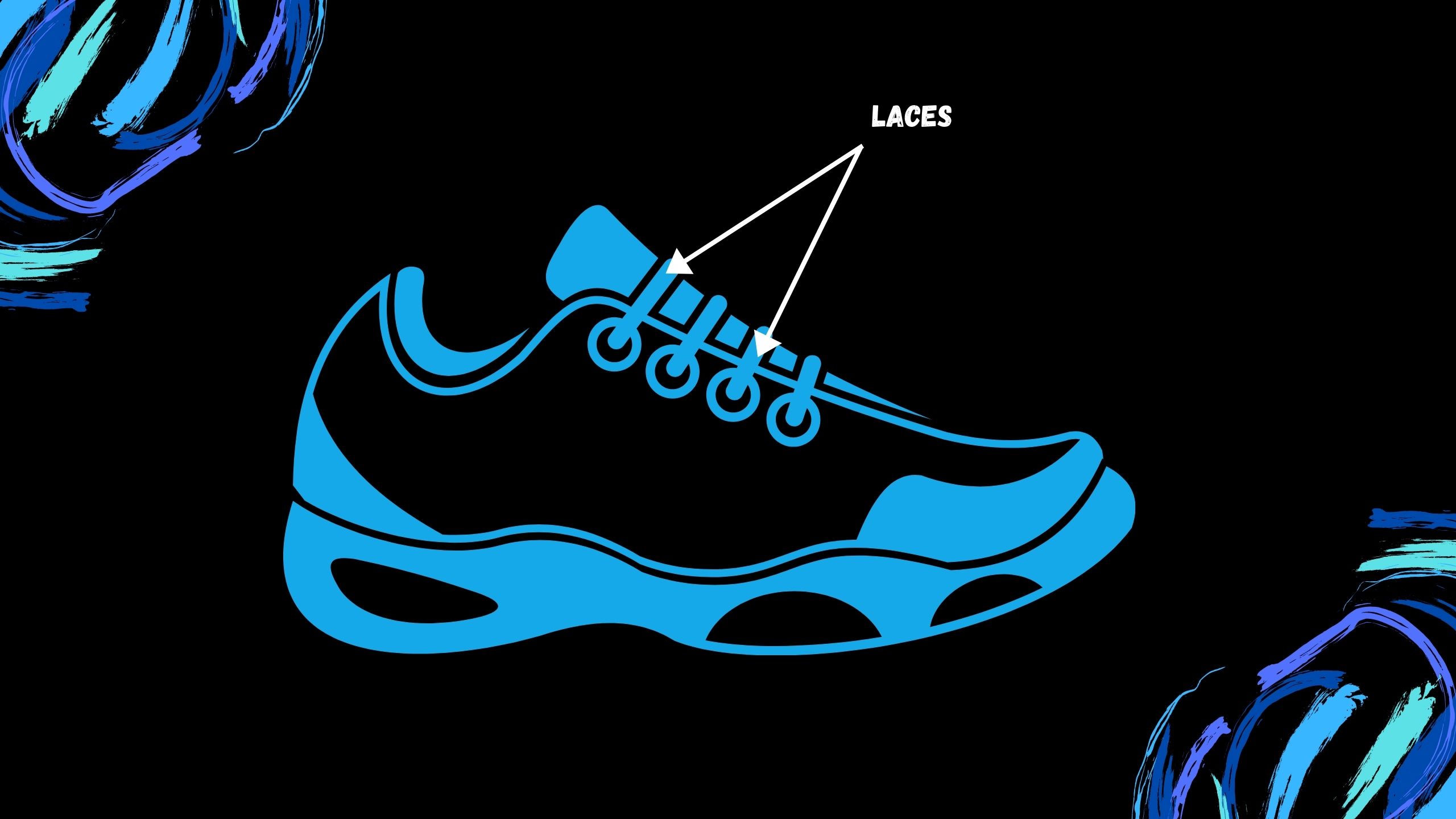 Now, the laces might seem like a pretty trivial part of your shoe. However, they do come in different forms. Some laces are a little bit rounder. And other laces are Superflat a little more minimal. So that's something you're going to want to take note of.
Eyelets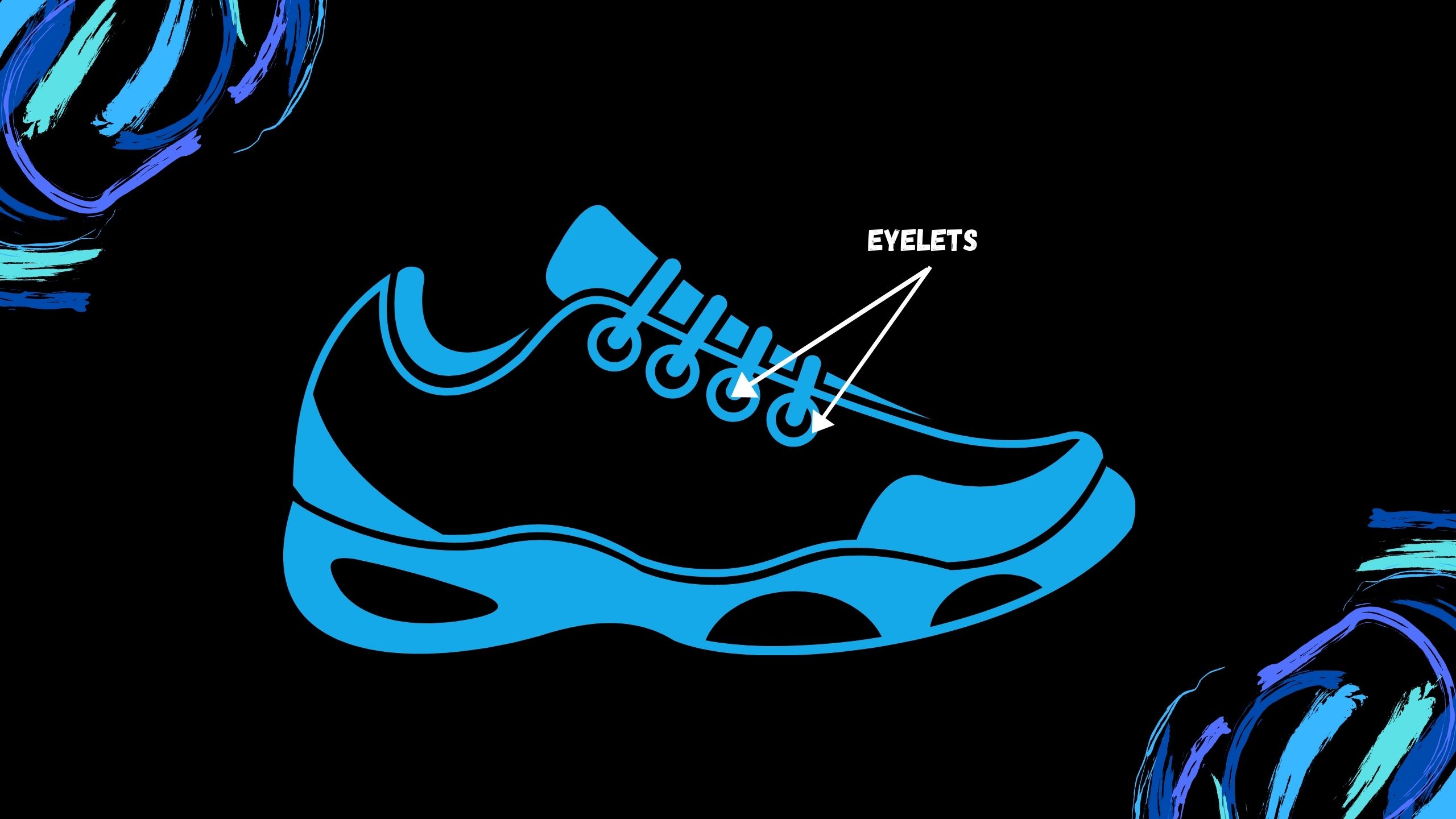 Next, we have the eyelets. Now, the eyelets may also seem like a pretty trivial part of the shoe. However, this can often cause tennis players rubbing right at the ankle bone. So it is something you want to take note of while you're buying a shoe.
Tongue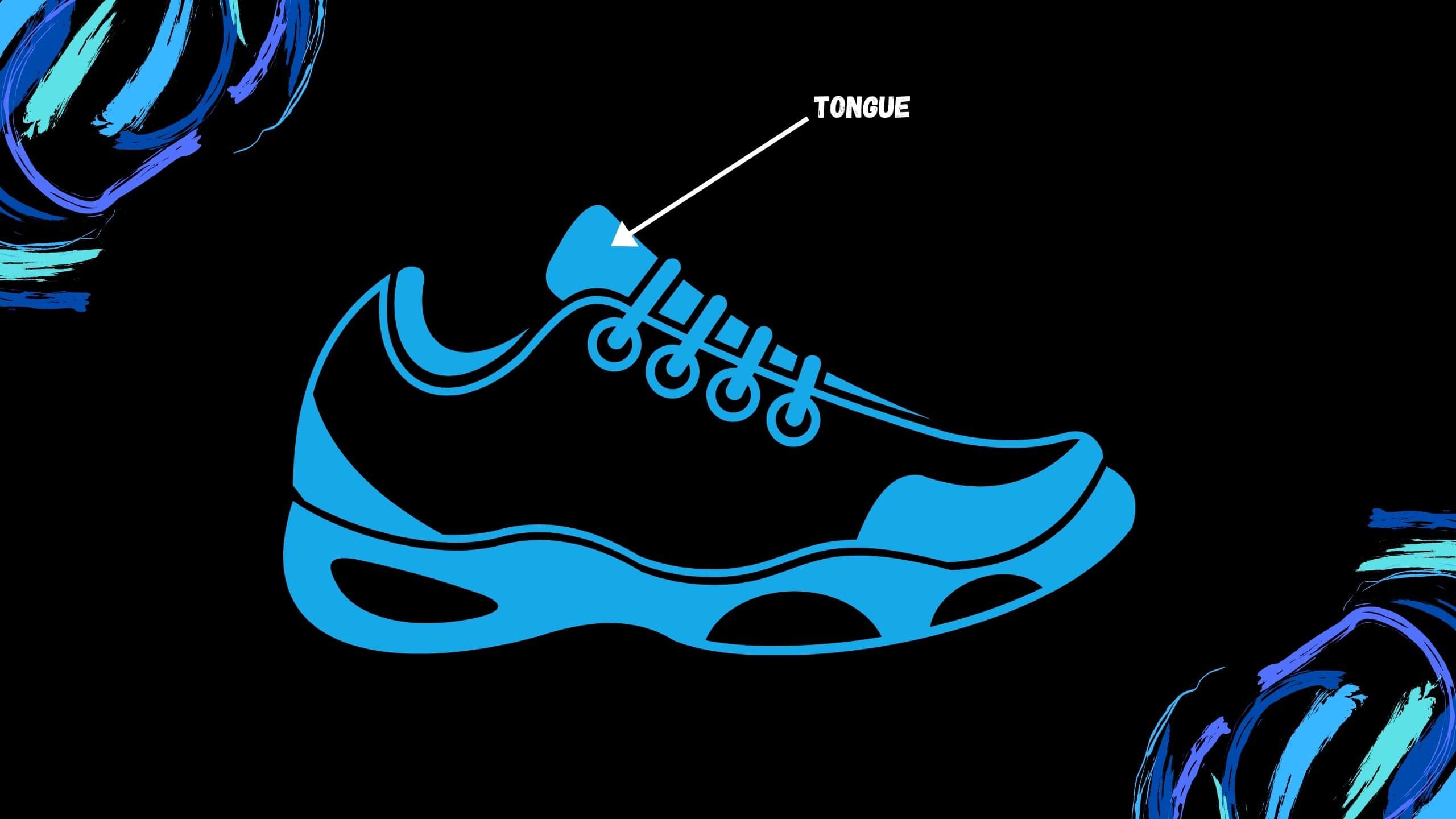 let's take a look at the tongue now. There are two different ways that a tongue can be present in a shoe. They can be separate from the upper or it can be attached to the upper when it's attached is going to give you a booty like fit. So you're going to be well held in there by the tongue. And then it's also worth noting the comfort levels of the tongue. it is going to be super plush. It's got lots of cushioning. However, other speed-oriented shoes are going to have more of a minimal tongue.
Heel counter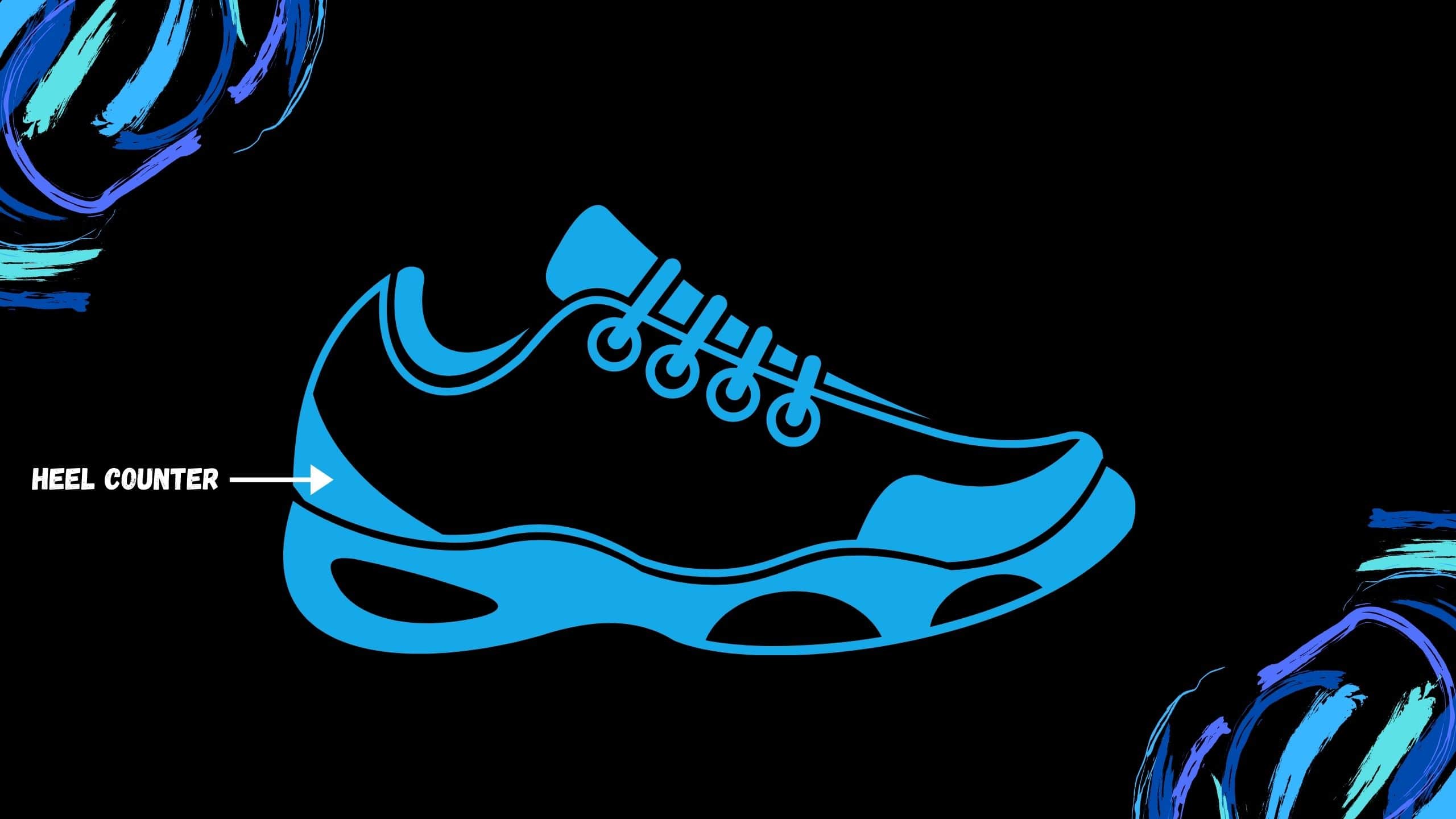 Next, let's take a look at the heel counter now right inside where you're going to put your foot in. There's usually going to be lots of plush cushioning right around your heel, and then there's usually going to be some technology as well to hold your heel in place. 
Often you can't see that technology, but it's going to just support your heel, give you nice stability. And this is right inside that heel.
The insole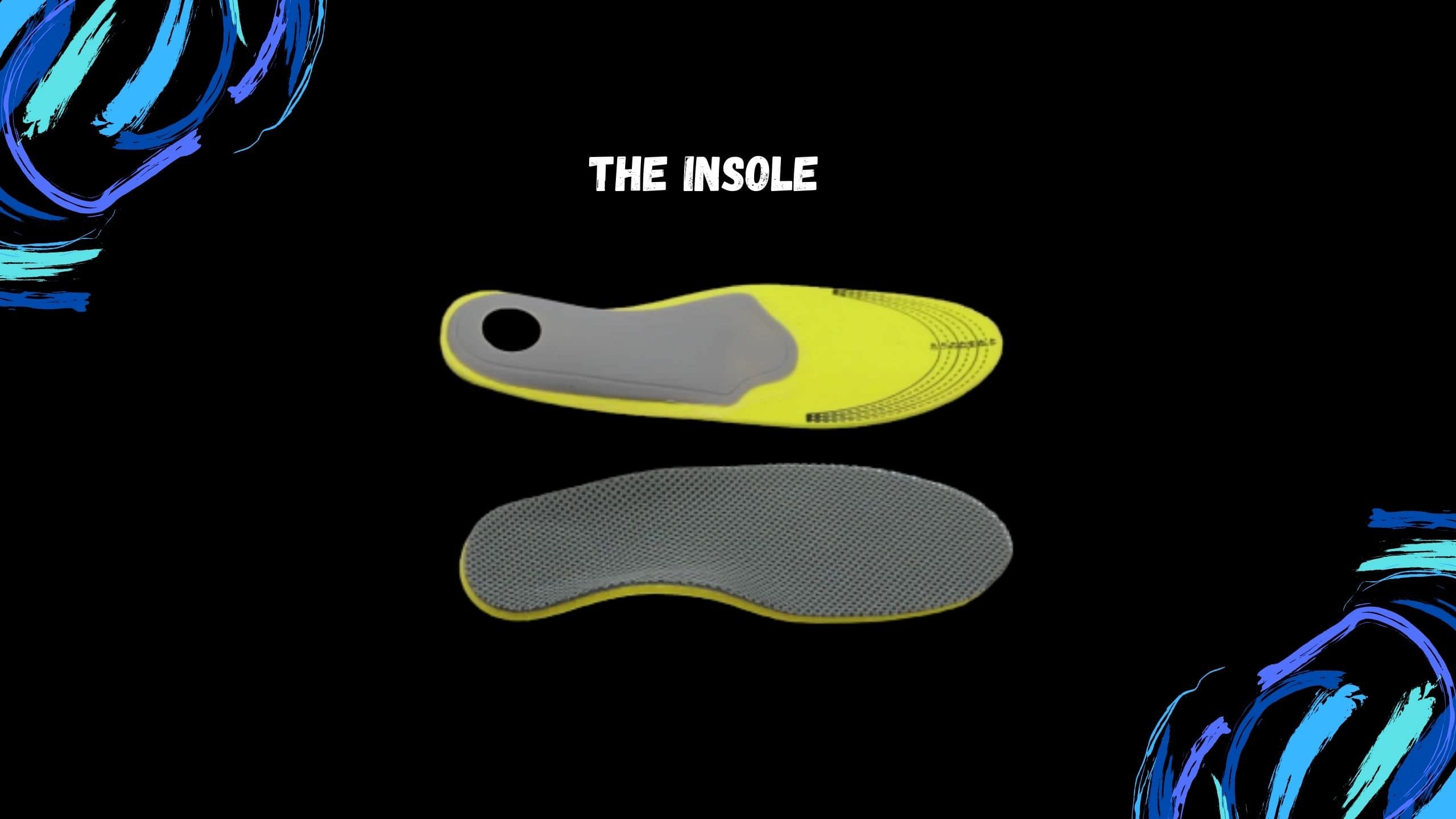 let's take a look at the insole now. Most of the time, the insole is going to be a removable part of the shoe. And then this is just going to offer you a little more cushioning and a bit of arch support.
The midsole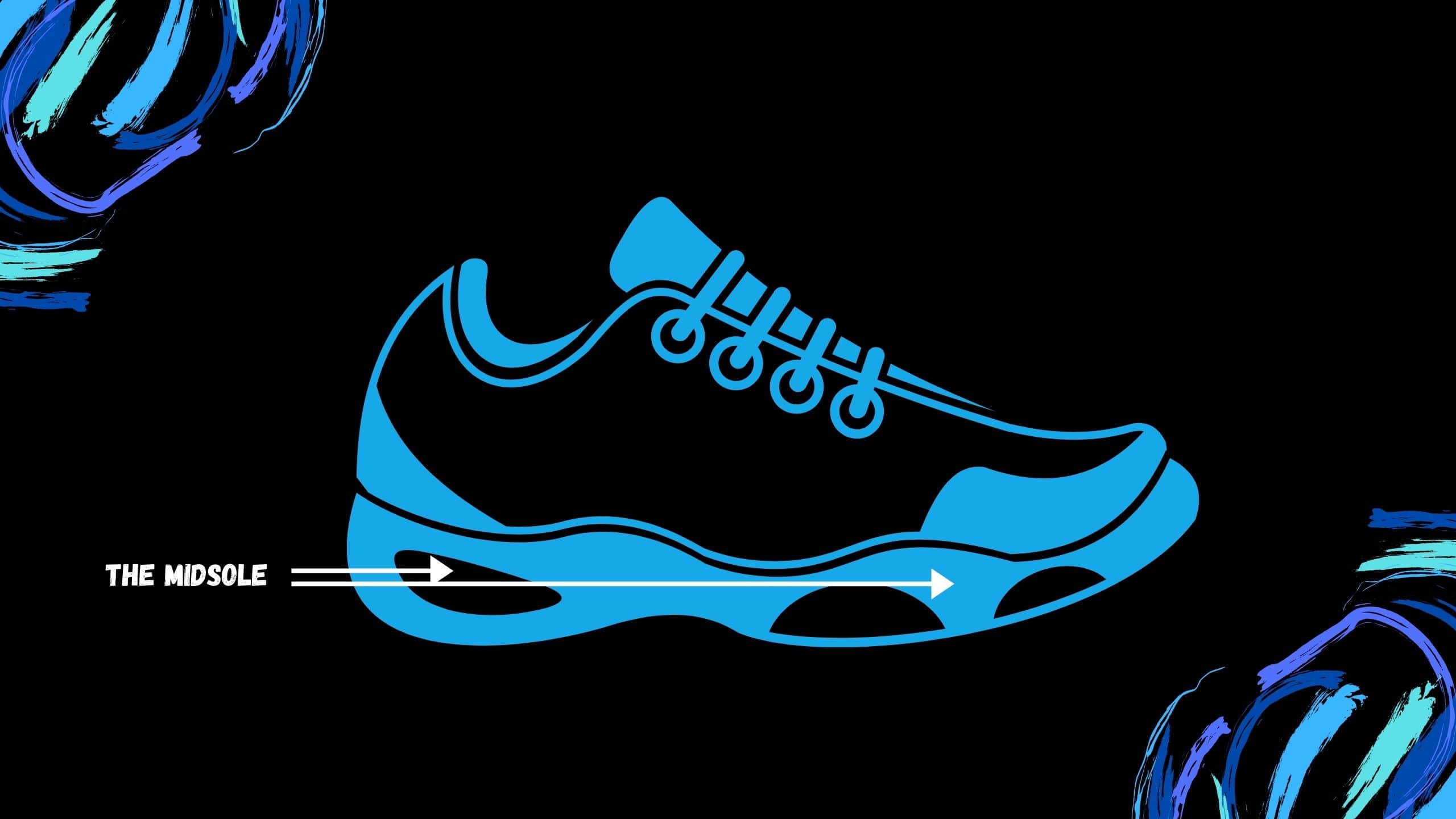 Then from there, let's take a look at the midsole. Now, oftentimes in tennis shoes, missiles are going to be where the majority of the cushioning is. So you're going to see it right here. And in tennis shoes, the majority of the cushioning is usually under your heel. 
the outsole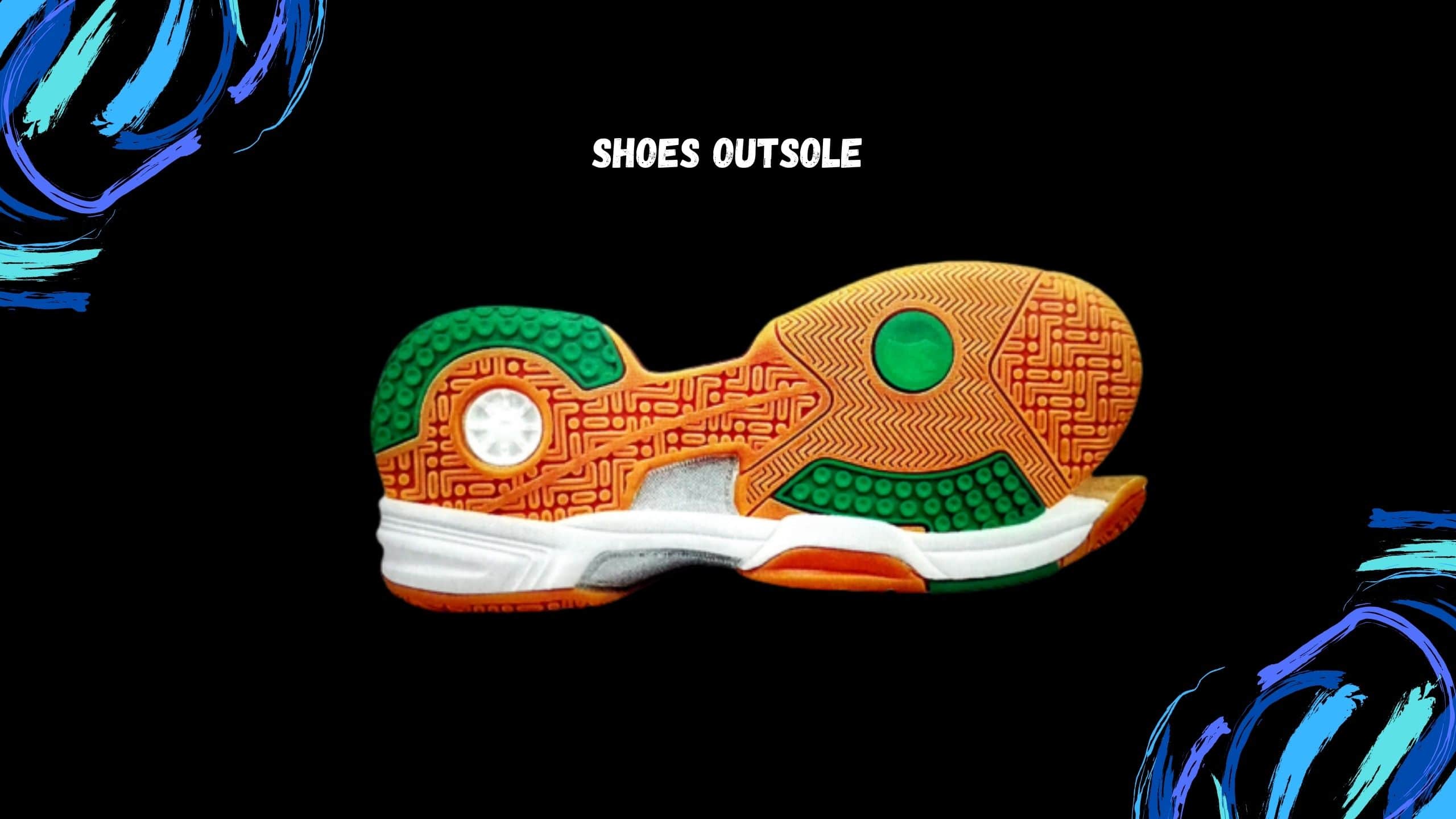 next, let's take a look at the outsole. Now, that outsole is obviously where you're making contact with the court. So this is where you're going to have all your durability. It's also going to be where the traction of the shoe lies. You can tell the different kinds of outsole based on the pattern. Now, a modified herringbone pattern is going to give you great traction on any court surface, while a full herringbone pattern is going to be best for clay courts.
Also, it's worth noting that outscores can come in one or two pieces, and then the piece that separates the two outsells is going to be called The shank.
Now, a lot of times you can't see the shank in the technology. Sometimes you can, but most of the time you can't. And now that's going to be the part of the shoe that's going to keep you super stable when you're moving.
the upper of the shoe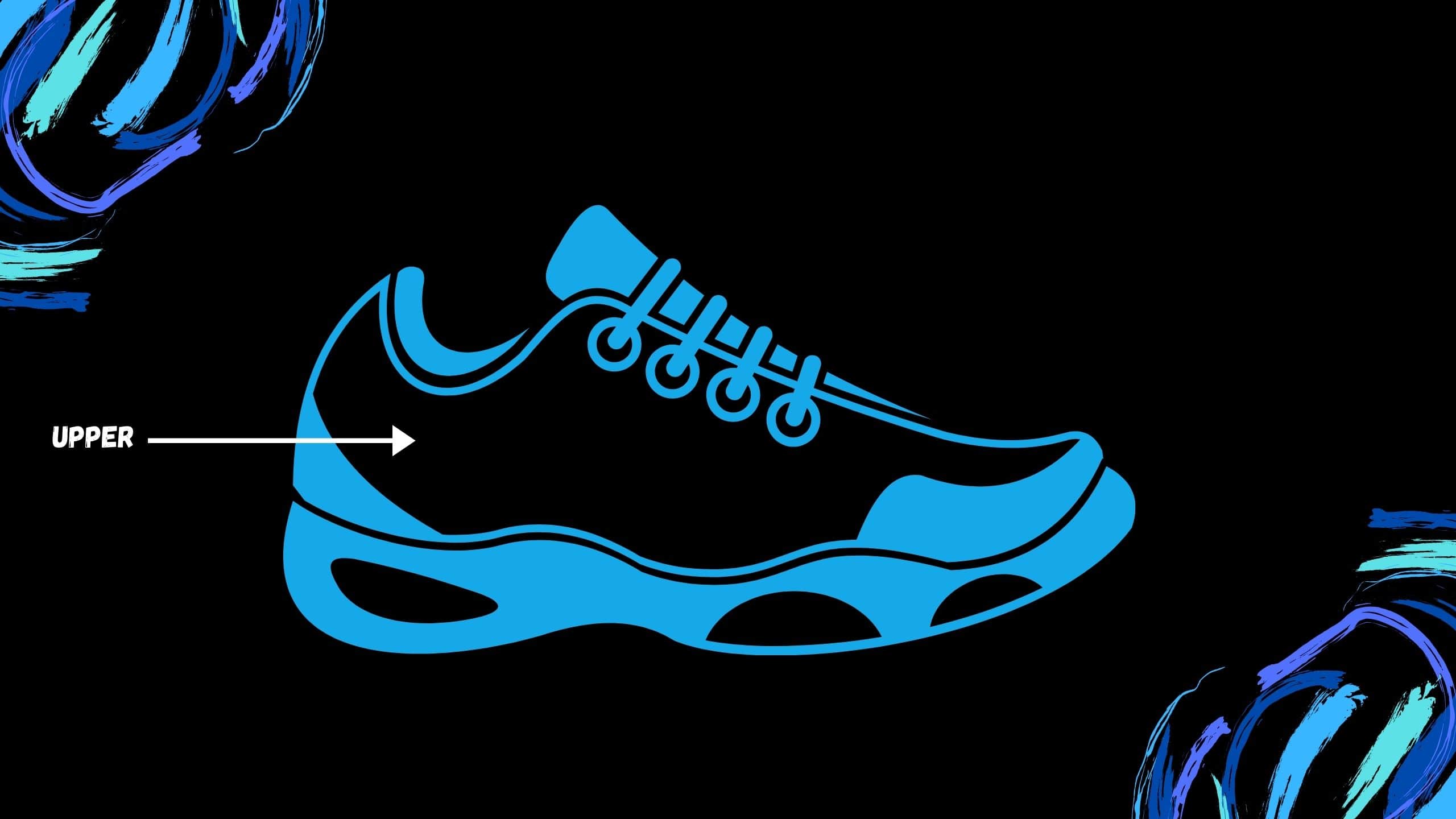 Next up, let's talk about the upper of the shoe. Now, the upper is going to be that material that surrounds her foot. So this is going to be the upper it's usually made of synthetic material. It can also be made of leather. It's going to be usually nice and soft and keep you well-cushioned on the court 
the toe box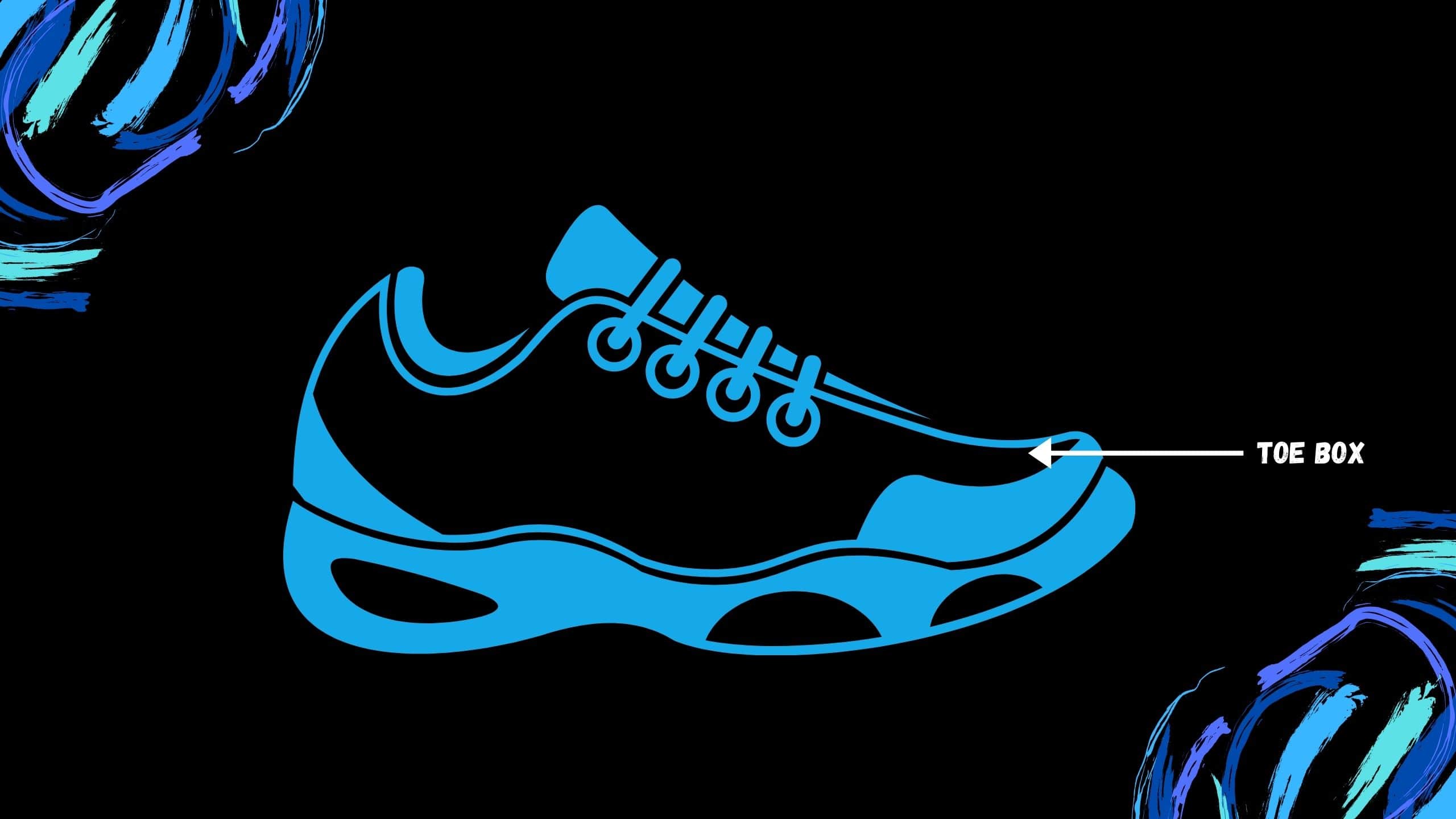 from there. Let's talk about the toe box now. The toe box is this area where your toes fit right in here. We also called this area of the shoe, the vamp, and that's just the material that's over the toe box at the front of the shoe. 
 The toe guard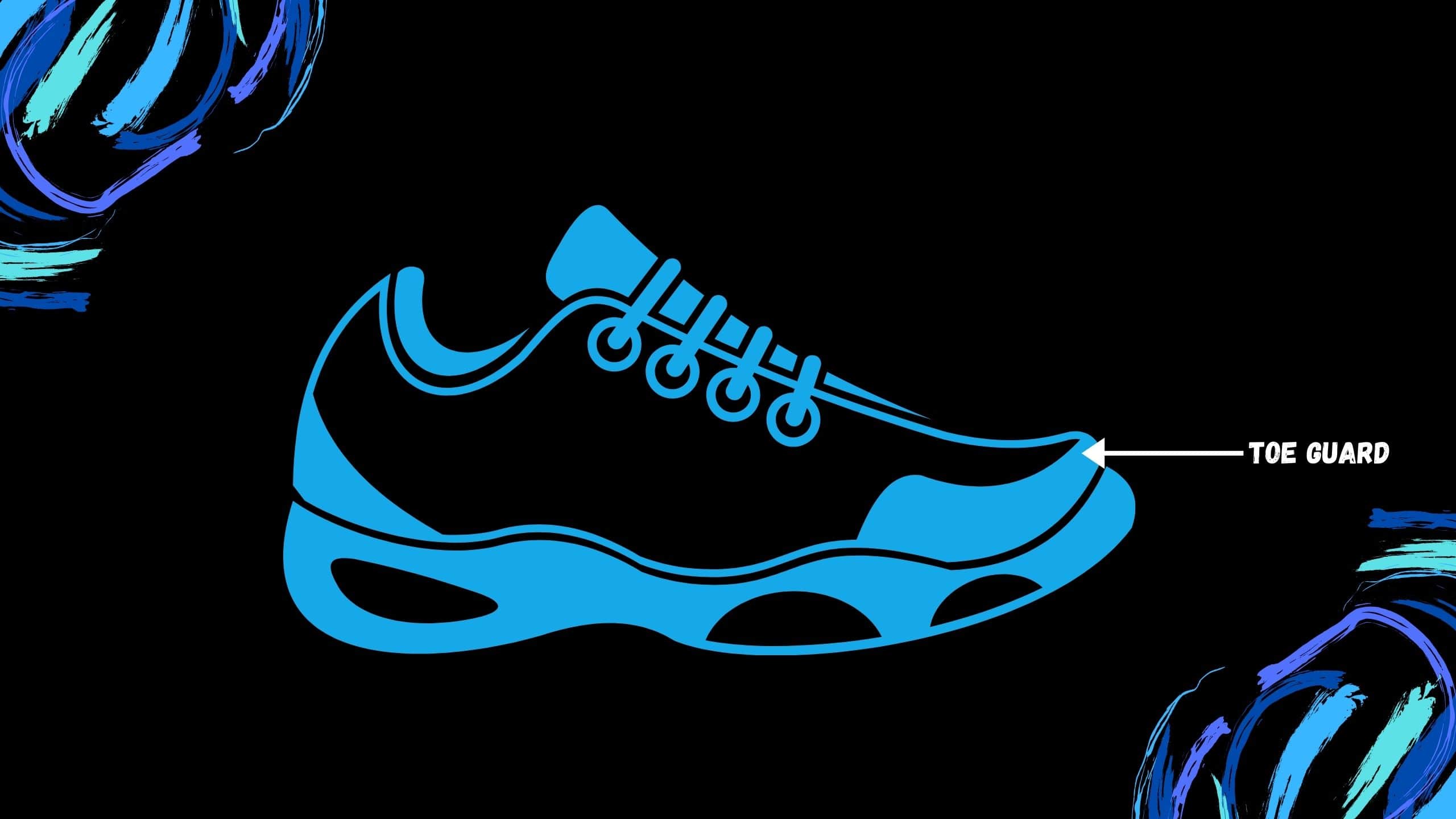 We have the toe guard. This is just going to be an added piece of durable material that's going to keep you well protected against toe dragging. 
How to choose the right tennis shoes
Choosing the right footwear in tennis is important for several reasons. The first thing is the difference that a tennis shoe gives you compared to other shoes on the market. 
Tennis shoes are very good at giving you lateral support. And one of the main ways that players move on a tennis court is side to side, as much less chance of rolling your ankle wearing a tennis shoe compared to a running shoe, which will only support you moving that way in the style of a runner.
There are different shoes for different types of courts in tennis. The first type of court I'm going motion is the grass court and the grass-court shoe.
the grass-court tennis shoes
The main aspects of grass courts shoe are traction. So this shoe gives you really good traction on the court, stops you from slipping around because the grass courts can get a little bit slippery when you playing. 
One thing that you'll notice is the sole of the shoe has a pimpled sole, which is what gives you that maximum amount of traction when you're playing the sole has a lot less cushioning than a normal tennis shoe because of the cushioning nature of the grass courts. 
The sole is also very flat and this reduces damage to the court. When you're playing. 
Clay court tennis shoes 
Clay court shoes are different from the grass-court shoes. 
The main thing about a clay court shoes is the stability it gives you with the tough upper sole and also the lateral supports it gives you.
So a lot of side to side movement on a clay court gives it less chance of you rolling an ankle as you play.
The other thing that you notice about a clay court shoe is the tread on the sole. Typically it's a herringbone tread pattern and this gives you maximum traction, maximum grip when you're moving across the courts.
Clay court shoes are also great to use on Astroturf and artificial clay.
The Omni court tennis shoes
The Omni court tennis shoe or all court shoe is a great issue for all court surfaces. This shoe gives you really good lateral support and stability with a tough upper sole. 
The other thing is the sole of the shoe is very, very tough and durable. So you do very well to get through it last you a long time.
It also gives you great cushioning, so it gives you a bit of support and protection with the impact on some of the courts that you play on.
Tennis Shoes vs Running Shoes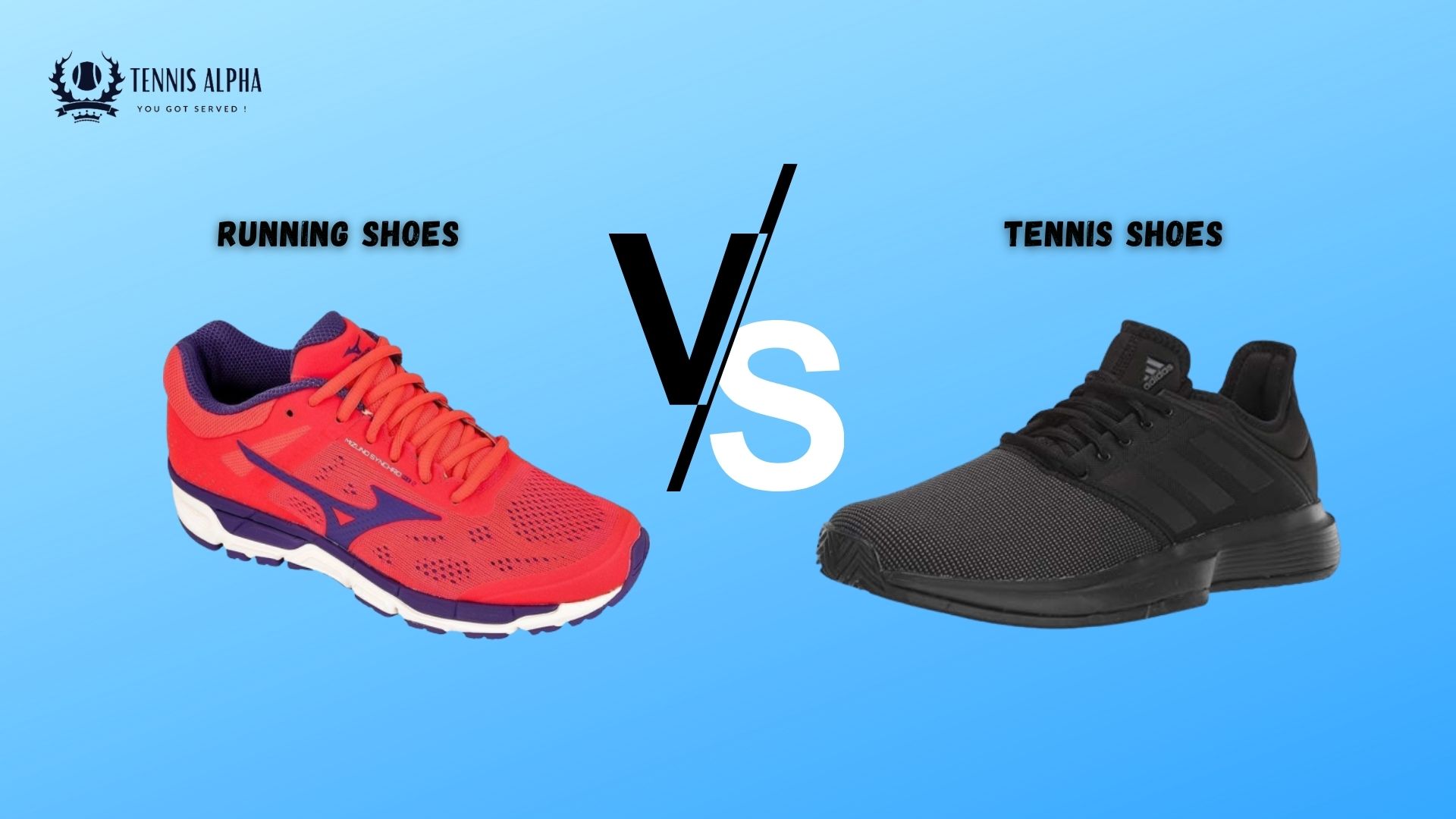 Now, some of you guys might be wondering why a running shoe looks like it's going to be just fine on the tennis court. But I'm here to explain some of the differences.
first things first. The movement in the two sports is very different. On a tennis court, you're scrambling laterally, constantly. Yes. Sometimes we are moving forward as well, but we need that stability when we're pulled out wide and a lot of tennis-specific shoes have dealt with that.
So even this sole court boost from Adidas does have a nice outrigger that's going to give you loads of stability and make you feel really good while you're scrambling to get balls.
Also, the shank on the shoes is going to be nice and strong holding you supported. Now, running shoes might not have that same support or stability built into it. And when you're running, you're trying to just go forward.
So not a whole lot of need for that lateral support. And often if you are wearing a running shoe, it's easier to tip over in these guys.
Another thing that differentiates running shoes in tennis shoes is the midscale cushioning. Now, runners emphasize that cushioning. And as you can see on both these shoes that I brought out pretty thick midsoles, they're going to be nice and plush underfoot. They're going to feel awesome mile after mile while you're out on your runs.
However, in tennis shoes, we're more concerned about feeling connected to the court, so not as high off the ground. Still, there's good cushioning underfoot, but you're going to feel connected to the court.
Now, even if I compare these two Adidas shoes, both of which do offer boost technology, you can see that the tennis shoe has a bit less. So that's another thing to remember
I'd also like to note that the outsole of running and tennis shoes are pretty different. The outsole and tennis shoes are made specifically for court traction. Now, we got we've talked about other court surfaces so you can even tap into different traction on the different surfaces if you need a clay court shoe. But these running shoes don't have the same sort of traction that you're going to get from a tennis-specific shoe.
Now, speaking of outsoles, running shoes often are tossed out. Once the cushioning goes away, a runner might have spent three hundred or five hundred miles running in the shoe. And they feel like the cushioning is gone. It's bagged out. It's not offering them the same plush underfoot feel.
But in tennis, we wait until our shoe, our outsole traction has completely gone. We're sliding around on the court and it just doesn't feel durable or safe anymore. So that's important. 
The rubber outsole on tennis shoes is going to be much more durable than on a running shoe. 
Another difference that we see is the upper support of tennis shoes is going to be stronger support than a running shoe.
Again, you're moving forward when you're running. You're not looking for a lot of lateral support. And on a tennis shoe, you do look for your upper to give you some nice support.
So as you can see, a lot of Tipu on the tennis shoes, not so much on the running shoes, pretty breathable, nice and soft step-in comfort.
Now, going back to the actual weight of these shoes, our friends with running shoes constantly are making fun of how heavy our tennis shoes are because running shoes are very light. 
They are looking to be fast and speedy. Now, while we do want to be fast and speedy on the court always, we are not interested in sacrificing weight for stability or support.
So tennis shoes are often a little bit heavier than their running counterparts, but that doesn't mean that you can't be quick in them.
Best Tennis Shoes For Men Reviews in 2020
Adidas Men's Approach

with good traction and grip, the Approach is more geared to a hardcourt but is adaptable enough to switch it up on softer surfaces, solid and unfussy with the typical Adidas credentials.
The approach tennis shoe is an extremely sturdy sneaker that is just lacking a bit in the cutting edge looks department. But looks are not everything and its strength is in the power it can put in your foot when you step up the pace.
A comfortable, hard-working tennis sneaker for everyday play.
 
Pros
Cons

✅A great level of shock-absorbing ability

✅Designed for durability, comfort, and ergonomics.

✅Good breathability level.

✅Perforated for added ventilation

⛔ Comes with a Basic design 
New Balance Men's MC1006v1

with top-notch comfort and performance along with uncomplicated looks. What's not to love about the empty 1006v1 tennis shoes? New Balance has placed stability, cushioning and breathability at the forefront of this shoe design, resulting in a classical surface tennis trainer that will keep you cool when the temperature on cauterizes a great fit for those of us with feet on the wider side. 
 
Pros
Cons

✅comfortable and reasonably durable

✅Breathable Mesh Inserts

✅Designed for tennis players

⛔ Too narrow for some feet
ASICS Men's Gel-Dedicate 5
This is one of the best tennis shoes, designed for regular tennis players with medium intensity footwork. ASICS Men's Gel-Dedicate 5 is hard-wearing enough to take you from starter player to game smasher. 
This tennis shoe is a real all-rounder and has been designed for both hard and soft surfaces without compromising on durability or performance with its classic good looks.
You'll feel the part as you step up to serve, and with its impressive cushioning and traction, you'll be ready to bring the game.
 
Pros
Cons

✅Flexible upper shoe design

✅Stability for all court surfaces

✅Great shock absorption 

⛔ A little bit narrow for some feet

⛔ too much-elevated heel sections
K-Swiss Men's Hypercourt Express
This tennis shoe is super comfortable and light on its feet. The Hypercourt Express is one of the speediest tennis shoes on the circuit, with just the right amount of rigid support to keep your foot stable. The Hypercourt is built to cope with the rigors of both fast to the net sprints and intense lateral play. Some K-Swiss diehard fans may rally against the use of breathable fabric rather than the typical old leather this Californian company is known for. But this lightweight tennis sneaker has the balls to get your game flying high. 
Pros
Cons

✅Comfortable and reasonably durable

✅Attractive design

✅Breathable material 

⛔The insoles are a standard thickness
Adidas Men's Barricade Club
A firm favorite on the court. The Barricade Club will give you the advantage when it comes to combining performance and value lightweight. But with the cushioning and support, you would expect from a more expensive tennis shoe, the barricade is no budget store player.
The more aggressive player will also appreciate the barricade's midfoot support system that makes light work of every twist and lunge to get you through the most intense of rallies.
Pros
Cons

✅Durable Design

✅Supportive Midfoot torsion system

✅Reinforced toe to protect against drag

⛔lacing method is a little sophisticated
ASICS Men's Gel-Solution Speed 3  
This speed you're thinking then ASICS Gel-solution, tennis shoe is your new best bud, low profile, and lightweight. This whipped out of a shoe turbo, charges your game and gives you superior maneuverability to boot. Its outsole is hard wearing and can take the rough of a hardcourt while absorbing the twists, turns, and sprints of an adrenaline-fueled game. If you're looking for a mid-price-quality tennis sneaker with Road Runner ambitions, then this is the shoe for you. 
Pros
Cons

✅Rearfoot and forefoot GEI cushioning system

✅Flexion fit upper for excellent comfort

✅Synthetic material with rubber sole

⛔Not enough breathability
 New Balance Men's mc806
If you're looking for an all-round tennis shoe at a decent price, then you can't go wrong with new balances mc806, happiest on a hardcourt with its herringbone sole and reinforced toe. It makes light work of concrete. It also features a nonmarket outsole and good traction, allowing this stylish tennis sneaker to step it up. If you move over to Clay, the MC806 also offers stability and support.
Pros
Cons

✅Leather upper and synthetic sole 

✅Perforated toe box and side panel

✅Absorb cushioning

⛔ They are only available in one color
Adidas Men's Gamecourt
Take a spin with these phenomenal shoes that provide enhanced traction for the playing field, whirls and slides have nothing on these soles. They were made to support such fast action moves with quality and durability being the priority. The Adidas Men's Gamecourt tennis shoes were made from quality materials set to withstand the constant frictions and fast-paced action on the tennis court.
The soles are made with rubber to provide a non-slip base that will withstand the elements. 
Pros
Cons

✅Affordable and high performance

✅Lightweight with an excellent fit

✅Sturdy with good lateral stability

⛔Not Suitable for Hard  courts
NIKE Men's Court Lite 

For a no-nonsense tennis shoe. Check out Nike's court Lite durable with enough comfort and stability to see you through the twists and turns of a good game. The hard-wearing court light also offers lasting traction on rougher surfaces when it comes to looks. This isn't the sharpest kid on the block, but it's ultimately a fantastically straightforward tennis trainer that can step up to the baseline as your game develops. Great value, all-rounder. That does what it says on the tin.
Pros
Cons

✅Textile and synthetic materials

✅A mesh tongue for extra ventilation

✅Extra material for toe protection

⛔Feel too narrow is some sizes
Our Final Choice for The Tennis Shoes 2020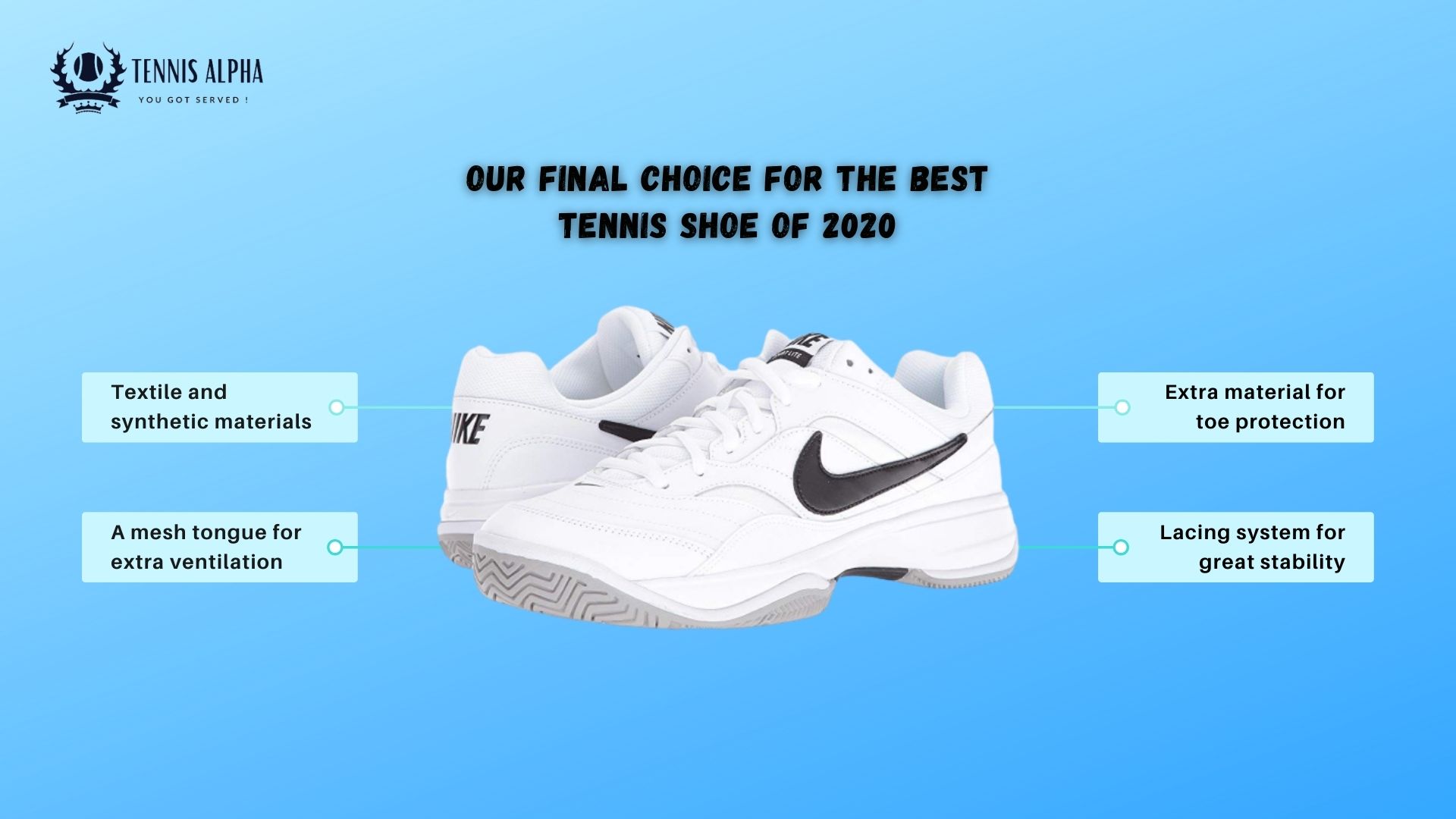 All the other choices on the list are also great. 
Summary
So guys Here is the complete guide of the best tennis shoes of 2020, which part of this article do you like most? Let me know in the comment section!
Now it's your turn to pick the right tennis shoes and the right racquet and take your game to the next level.
Talk with your racket, play with your heart.